If you forgot your password to log in to HIKVISION, it's great to have a password recovery tool. With the new firmware of HIKVISION, the password reset condition is more secure.
Reset the password on the live screen of the recorder
1. Double click on the lower left corner of the login panel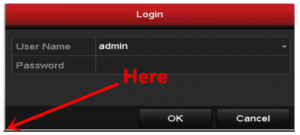 2. Copy the SERIAL NO number to the Safety House using
tool reset password hikvision
3. Enter SECURE CODE received from Safe House. The device will ask for a new password.
Good luck!